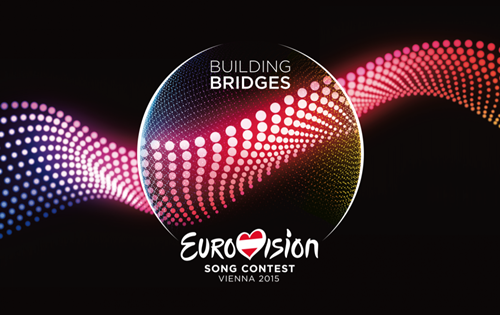 Eurovision 2015: Build bridges all over the world
The slogan for this year's Eurovision Song Contest is Building Bridges and now you can take this to a new level by 'building bridges' yourself with fans all over the world !
CONSTRUIRE DES PONTS DANS LE MONDE ENTIER
दुनिया भर में सभी पुलों का निर्माण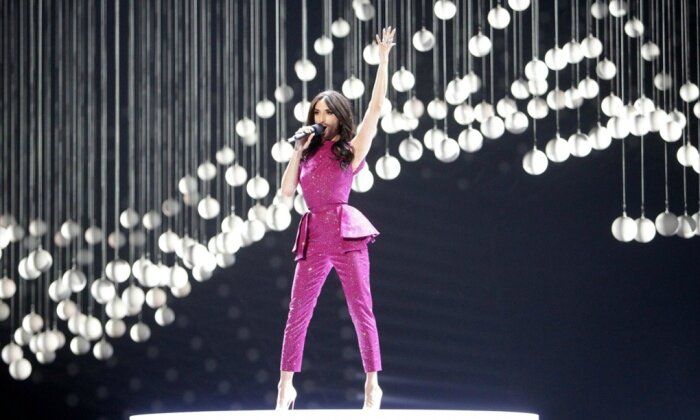 Photograph: Georg Hochmuth/EPA
The Three hosts, Alice Tumler, Mirjam Weichselbraun and Arabella Kiesbauer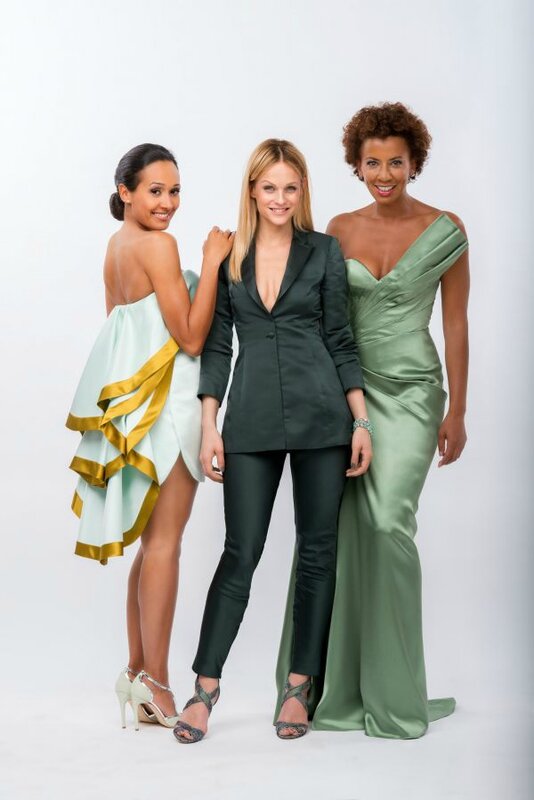 BEST SONG ANTHEM 2015 BUILDING BRIDGES
MUSIC : DOROTHEE FREIBERGER, DAVID BRONNER
LYRICS : DAVID BRONNER, DAVID MALIN
ARRANGEMENT : KURT PONGRATZ
PERFORMED BY CONCHITA ALMOST

I TRIED MYSELF TO TRANSCRIBE THE LYRICS ( I DO APOLOGIZE FOR THE MISTAKES)
DEVANT LE SUCCES DE CE TITRE J'AI ESSAYE DE TRANSCRIRE LES PAROLES, PARDON D'AVANCE POUR LES ERREURS)

LAURENT ADICEAM-DIXIT
BUILDING BRIDGES / THE LYRICS ? / LES PAROLES ?

IT'S ONLY LOVE THAT WE SEEK
TO BREAK THE SILENCE WE SPEAK
TO FIND A RHYTHM DIVINE
SO WE CAN SHINE

FOR EVERY TEARDROP THAT FALLS
FOR EVERY QUESTION THAT CALLS
THERE IS AN ANSWER OUT THERE
WAITING SOMEWHERE
IF ONLY FOR THE NIGHT WE'RE BUILDING BRIDGES
NO TURNING BACK, WE'RE ON OUR AWAY
LIGHTING UP THE SKY, WE'RE BUILDING BRIDGES
THAT WE HAVE JUST THE DAY

ONLY FOR THE NIGHT WE'RE BUILDING BRIDGES
AND THEN WE'LL STAND THE TEST OF TIME
WE CAN BUILD A BRIDGE UNTIL IT REACHES OUT
ACROSS THE BORDERLINES
WE GOTTA SHOW TONIGHT
WE'LL FLY TONIGHT (WE'RE BUILDING BRIDGES SO RIGHT, PALALA)
WE'RE ON THE EDGE TONIGHT
IF ONLY FOR THE NIGHT
WE'RE BUILDING BRIDGES TONIGHT
WE'RE STEPPING INTO THE LIGHT
WE'RE REACHING OUT TO THE STARS
THE FUTURE' S US
WE'RE BUILDING BRIDGES TONIGHT
WE'RE ALL THE WINGS OF BELOVED
SO WON'T YOU COME OUT AND PLAY
FOR THIS COULD BE OKAY
LEFT BOY (THE SINGER)

200 MILLION VIEWERS
I NEVER THOUGHT I'D SEE THE DAY
THEY ASKED ME IF I GRABBED MY CD
I SAID 'OKAY'
YO THIS RIGHT HERE
WHEN YOU WALK UP ON THE STAGE AND THEY ALL JUST DISAPPEAR
KISS ME NEAR
MAKE ME FEEL LIKE THEY LOVE ME
AND LISTEN HERE
THIS THE MOMENT THAT THEY ALL BEEN WAITING FOR
WHEN THEY RUN ME ON MY OWN AND ANYMORE
LEFT BOY (THE SINGER)
WHEN THE LIGHTS GO ON (LIGHTS GO ON)
WE ABOUT TO BE ON (WE ABOUT TO BE ON)
ALL WE GONNA DO IT (ALL WE GONNA DO IT)
CELINE DION (CELINE DION)
WHEN THE LIGHTS GO ON (LIGHTS GO ON)
WE ABOUT TO BE ON (WE ABOUT TO BE ON)
ALL WE GONNA DO IT (ALL WE GONNA DO IT)

ONLY FOR THE NIGHT WE'RE BUILDING BRIDGES
AND THEN WE'LL STAND THE TEST OF TIME
WE CAN BUILD A BRIDGE UNTIL IT REACHES OUT
ACROSS THE BORDERLINES

WE GOTTA SHOW TONIGHT
WE'LL FLY TONIGHT (WE'RE BUILDING BRIDGES SO HIGH, PALALA)
WE'RE ON THE EDGE TONIGHT
IF ONLY FOR THE NIGHT
Building Bridges (feat. Conchita Wurst) [Single Version] - ESC Vienna All Stars // Eurovision 2015
Eurovision Song Contest 2015 - Building Bridges Theme (Orchestra Version)
EuroVision Song Contest Vienna 2015 [Building Bridges FINALS HD] *FULL*