LE TEASING CI-DESSOUS / SITE OFFICIEL :
ENGLISH VINGLISH DE GAURI SHINDE
CASTING COMPLET : http://www.imdb.com/title/tt2181931/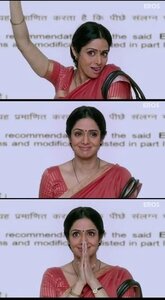 SITE OFFICIEL ENGLISH VINGLISH / TEASING / OFFICIAL SITE ENGLISH VINGLISH : http://englishvinglishacademy.com/
A VENIR LE TRAILER/BANDE ANNONCE :
***************************************************************************************************
Je viens d'apprendre que la sortie du film n'est plus prévue pour septembre 2012 mais pour le 4 octobre 2012. Patience...
Sur le tournage :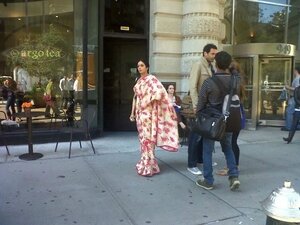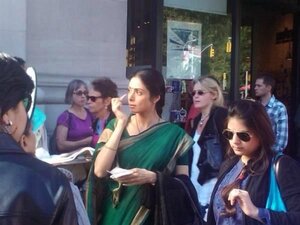 MEDHI NEBBOU / Acteur Français
****************************************************************************************************
SYNOPSIS EN FRANCAIS PAR LAURENT ADICEAM DIXIT :
English Vinglish :
L'histoire plante une femme Indienne, en l'occurrence, Sridevi qui joue le rôle de Shashi Godbole. Son personnage sait à peine s'exprimer en anglais ce qui s'avère être un gros handicap pour son entourage. Shashi se trouvera en plein cœur de Manhattan faisant face aux barrières de la langue et pour palier à cette faiblesse linguistique et pour gagner le respect de sa famille, elle entreprendra les moyens nécessaires… Ce film est le parcours initiatique d'une femme spontanée et humaine dotée de convictions tolérantes.
Ce film signe le grand retour de Sridevi.
CLIQUER POUR VOIR LA BIO DE SRIDEVI : SRIDEVI_BIO_2012/Laurent Adicéam-Dixit
ENGLISH SYNOPSIS :
Money, Fame and the Knowledge of English. In India, these 3 factors play a huge role in how society judges an individual.
English Vinglish is the story of a woman who does not know English and is made to feel insecure by her family and society at large. The film is a light -hearted yet touching and transformational journey of Shashi. Circumstances make her determined to overcome this insecurity, master the language, teach the world a lesson on the way to becoming a self assured and confident woman.
The film is shot mostly in New York and captures the inherent struggle of many people all over the world with the English Language. Hilarious, touching, sensitive, this film marks the come back of India's biggest female star…Sridevi.
Written and Directed by Gauri Shinde. Produced by R. Balki
MEDIA DIXIT WORLD PROPOSE UN ARTICLE EN ANGLAIS
After 15 years, Sridevi returns to the big screen with a bang in English Vinglish. Clad in a carrot coloured sari, the actor stuns in the first look video of the film.

The video is shot interestingly. It begins with Sridevi reading from the film certificate spread out like a wallpaper with
related stories
Balki and Big B to team up again
B-Town's three 'heroines' to clash on Sept 21
her back facing the viewer. Sridevi emotes with her voice getting the comic timing just right. I mean you do laugh with the lady. She resorts to malapropisms which suits her role in the film. She is essaying the central role of a housewife, who enrolls for an English speaking course in order to please her husband and family.

Sridevi is looking fresh and strikingly young. In fact, it seems the beauty has aged backwards for her comeback film.

Producer R Balki (director of Cheeni Kum and Paa) said earlier in an interview that the film was written especially for her: "It is a very special film for me because it marks the comeback of Sridevi, possibly one of the greatest performers. It was written and discussed keeping her in mind."



Debutant director Gauri Shinde (Balki's wife) told a daily in April: "Balki had gone to meet Boney Kapoor (Sridevi's husband) over something, and mentioned that I had a script for a film about a mother of two, who wants to learn English. Sridevi, who was there too, was interested to know more. That night, when Balki came home and told me this, I was stumped. I had considered a host of names for this role, but Sridevi, wasn't even on my mind, because she had been out of the scene for years. When I went over to narrate the script, she hung on every word. Through the narration, I saw her reactions and knew that this film was tailor-made for her."
The film also features French actor Mehdi Nebbou, Adil Hussain and Priya Anand. Amitabh Bachchan will also be making a guest appearance and will share screen space with Sridevi after 18 years. The duo last starred together in Khuda Gawah.

Sridevi is known for films like Sadma, Chandni, Chaalbaaz, Mr. India and Lamhe. Her last outing was Judaai which released in 1997.

English Vinglish is also trending on India Twitter trends. Here's what tweeple are saying:
Shirish Kunder (@ShirishKunder): Trailer of "English Vinglish". Brilliant stuff! Super creative!
Rajeev Masand (@RajeevMasand): The teaser trailer of 'English Vinglish' - very cleverly done. Welcome back Sridevi.
Shailesh Kapoor (@shaileshkapoor): Quite a unique teaser for English Vinglish. Sridevi is evergreen awesomeness
Bhawana Somaaya (@BhawanaSomaaya): Super trailer of English Vinglish in the theatres. Unique and original. Sridevi turns to look at the camera and lights up the screen.
Suniel Wadhwa (@sunielwadhwa): # Sridevi's English Vinglish Teaser Trailer directed by Gauri Shinde is very unique & true to the character & story. Hats Off to Balki
CSRamachandran (@csramachandran): English Vinglish trending on the day when Ferrari ki Sawaari releases... Ferrari cant match up to Sridevi speeds?